Alkaline water is one of the most powerful preventative health solution to meet the needs of families and an aging population. We have brought good health and happiness to the lives of many. However, this lifestyle is not yet as widely adopted in Singapore when compared to Korea, Japan and USA.
Our vision is to make alkaline water ionizers available to every home in South East Asia & Australia – as common as refrigerator in our home.

Our shared values are:-
• Professionalism, honesty, integrity & service excellence
• Passionate to pursue health and happiness
• Socially responsible to help those who are less fortunate If you believe in the vision and the values, we have wonderful business opportunities for you to make a difference in people's health.

H2O LIFE SOURCE has programs for:
• H2O Franchisee – You want to use your talents and skills to build a successful business based on a proven platform. Say goodbye to routine 9-to-5 job.
• Friend of H2O Program – You drink alkaline water, embody a pH balanced lifestyle, and you want to be a referral.

We invite you to call us and explore this opportunity together. Tel: (65) 62767407 or e-mail contact@h2olifesource.com

Note: This is NOT a Multi-Level-Marketing program.




1. Do you have a keen interest to pursue a business relating to health and wellness?
2. Do you enjoy personal selling and working closely with customers?
3. Do you believe in achieving better health and healing through naturopathic means such as hydration, diet, nutrition, exercise and rest?
4. Do you intend to be personally involved in the running of the franchise store?

Personality, People skills, Leadership Capabilities, Business and Management Skills, are all vital factors that will be carefully evaluated. If this sounded like something you would like to do, then we invite you to learn about becoming a H2O Franchisee. Many people dream of owning their own business, but few understand the responsibility it carries. It requires a significant investment both financially and emotionally. We are here to help you to be successful.

The H2O LIFE SOURCE Franchise process is a 10-step process designed to ensure that potential H2O Franchisees are informed, equipped, and trained to run a H2O LIFE SOURCE franchise successfully.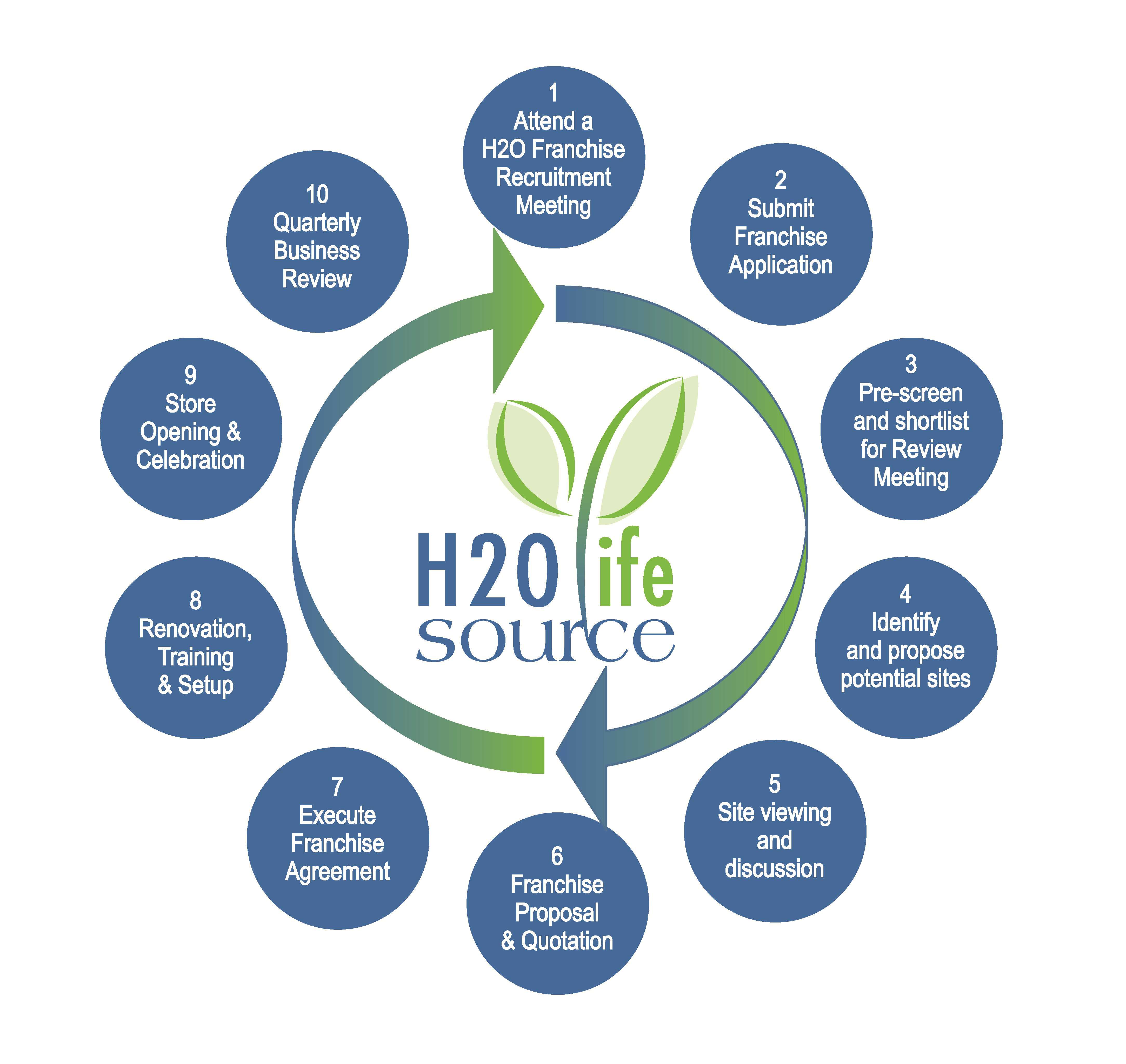 1. Contact H2O LIFE SOURCE to register your interest to attend a franchise introduction meeting, typically once every two(2) months.
2. Obtain a copy of the H2O Franchise Application form and submit the completed form together with a refundable cheque deposit to confirm your interest.
3. The H2O Franchise Team will pre-screen the applications and only shortlisted parties will be invited to review their applications and address questions concerning the franchise.
4. Prospective franchisees have to identify and propose potential sites (cities, neighbourhoods, malls, premise) with space and rental estimates for consideration. H2O LIFE SOURCE reserves the right to determine the best H2O Franchisee for each geography and you are not guaranteed to receive the franchise for the site you suggested.
5. Site viewing and discussions to be arranged by prospective franchisees subsequently.
6. Prospective Franchisees will be provided an official schedule of H2O LIFE SOURCE products and services, including fees relating to brand royalties, marketing and management.
7. Review and execution of H2O Franchise Agreement.
8. Training by H2O LIFE SOURCE will be held over a period of 2 weeks or a minimum of four 8-hour sessions.
9. Renovation and setup of the H2O Store will take a minimum of 4-6 weeks depending on the size of the premise selected.
10. Celebrate the Opening of the H2O Store with a big bang!

Our selection process is built on years of experience in both management and operation. Our objective is to get to know you and assess your comfort level in becoming a H2O Franchisee. We are looking for the right "fit" between you and our franchise family. This selection process will also help you gain insight into why we pride ourselves in selecting and supporting all our H2O Franchisees professionally. While each case is different, you can expect it to take about one(1) month to execute the Franchise Agreement.

The first step begins with YOU. We cannot spell S_CCESS without U !
Please be prepared for certain financial requirements depending on the types and location of franchise.

We invite you to submit your enquiries or franchise applications to franchise@h2olfiesource.com

I am interested in the H2O Franchisee / Friend of H2O program, please have a manager contact me:-